Beach House
Beach House, Hoswick, Sandwick, Shetland, ZE2 9HL, UK
Note: we do not take bookings for any year until the beginning (January) of that year.

Our (new) availability calendar has now been installed and updated (January 2023).
---
Beach House is a traditional (c.1895) two-storey typical Scottish highland/island house of the period, in the former fishing village of Hoswick, in the district/parish of Sandwick in the South Mainland of Shetland. It is approximately 15 miles south of the capital, Lerwick, and 12 miles north of the airport at Sumburgh.
It was our family home for several generations, and is now used extensively for return visits by family now living on the UK mainland. As such it is more extensively (for our family use) equipped than purpose-built holiday accommodation and contains many personal effects. We are happy to let it out for short lets as self-catering accommodation in between our own use, and trust that guests will enjoy and respect it and its contents.
Accomodation
Beach House has two double bedrooms upstairs, and one twin bedroom downstairs - so could accommodate up to six people depending on sleeping arrangements. There is one bathroom (renewed in 2013) with bath, shower, wash-basin and toilet - so access to that should be taken into consideration for the number of people sharing a booking. There is a comfortable lounge, with TV (internet-capable, for example for BBC i-player) and DVD player, telephone and broadband access (WiFi and/or cable). There is a well-equipped eat-in kitchen extension on the back, with a large window looking over the bay, with electric cooker, fridge, washing machine, kettle, microwave and various other items. The water and space heating is by electricity. There is an open fire in the lounge, but guests should not use it unless experienced with real fires: fuel is not supplied but can be bought from various outlets (for authenticity you can buy peat). The house is double-glazed and insulated, and there are additional heaters in the unlikely event that guests need them. There is an extensive garden front and back, with access to the adjacent field. The house is 60 metres from the beach, accessed by a path from the front garden gate. These houses were built fronting on to the old beach road, which is no longer used and is now just a grassy footpath, narrowed by recent fencing of adjacent fields. Routine access to the house is via the back garden and in the back door, from a path from the adjacent public car parks by the Hoswick Visitor Centre or the Laurence Odie Knitwear building.
Bookings
Since Beach House is primarily a second home for family now living on the UK mainland, we will not take bookings for any year until January onwards (to allow our family time to plan when they will use it in 2021). Follow the links (top left) for further details, or phone +44 131 663 1138, text +44 7889 981 636 or e-mail. Enquiries are welcome at any time. Note that we only rent by the week, Saturday to Saturday, so that consecutive bookings fit without gaps. However we can discuss other arrival/departure days especially outside of the busy summer season. The minimum rental period is 1 week (whatever the occupancy).
---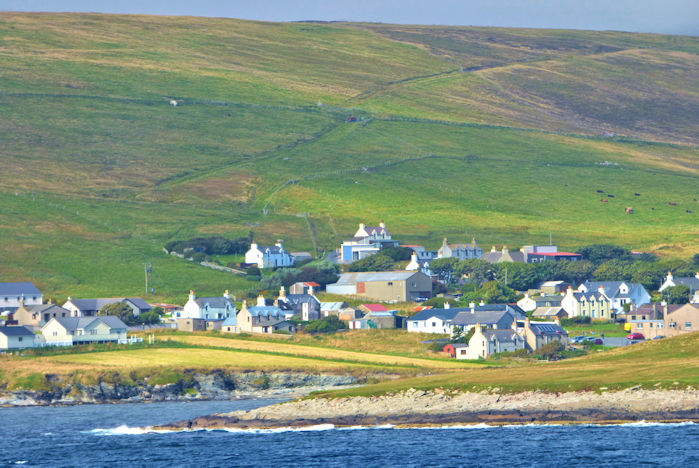 Hoswick: View from Cumlewick over the point of Whilfigarth